Relic Worship: History, Archaeology and Religion
Centre for Contemporary Indian Studies (CCIS), Pali and Buddhist Studies Unit/University of Colombo and Lakshman Kadirgamar Institute for International Relations and Strategic Studies
Worship of the relics of the Buddha has been a widespread feature of Buddhist devotional practice since very early times. An exposition of the sacred Kapilavastu Relics of Lord Buddha will take place between August 19 to September 5 2012, under an agreement signed   between India and Sri Lanka. It would be the second time since their discovery 113 years ago the Sacred Kapilavastu Relics will travel to Sri Lanka from India's National Museum situated in New Delhi.  The first Exposition of Sacred Relics in Sri Lanka was in 1978.  In connection with the exposition of sacred Kapilavastu relics in Sri Lanka, the Centre for Contemporary Indian Studies (CCIS) in collaboration with the Pali and Buddhist Studies Unit, University of Colombo is organizing a half-day symposium on Relic Worship: History, Archeology and Religion on 20th August 2012 at the auditorium of the Lakshman Kadirgamar Institute for International Relations and Strategic Studies, Colombo. This symposium will address central themes associated with the relics and relic worship from historical, archaeological and religious perspectives.  It will also provide insights to understand long-standing religious and cultural ties between India and Sri Lanka.
Many Languages One Literature
Famous Indian Writer Ms. Namita Gokhale's Guest Lecture on "Many Languages One Literature"
Organized by the Centre for Contemporary Indian Studies (CCIS), University of Colombo held on Monday, 23rd July, 2012 at the Department of Sinhala Auditorium
Challenges to the Access to Medicine in the Post-TRIPs Era
Guest Lecture
A Guest Lecture on 'Challenges to the Access to the Medicine in the Post-TRIPS Era' by Professor T. Ramakrishna, IPR Chair Professor & Chairman, PG Council, National Law School of India University, Bangalore & Visiting Scholar, Faculty of Law University of Colombo will be held on 2nd April 2012 at 4.30 pm at the NLT 1 – Faculty of Law Building University of Colombo. This lecture is organized by the newly- established Centre for Contemporary Indian Studies (CCIS) University of Colombo in collaboration with the Faculty of Law.  For more details pl. contact Secretary / CCIS Tel. 0112591610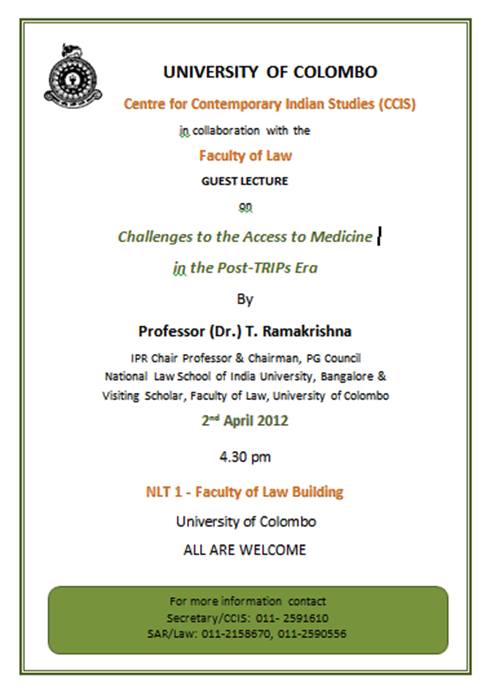 The Sinhala Radio Opera and the Indian Cultural Imagination By Garret Field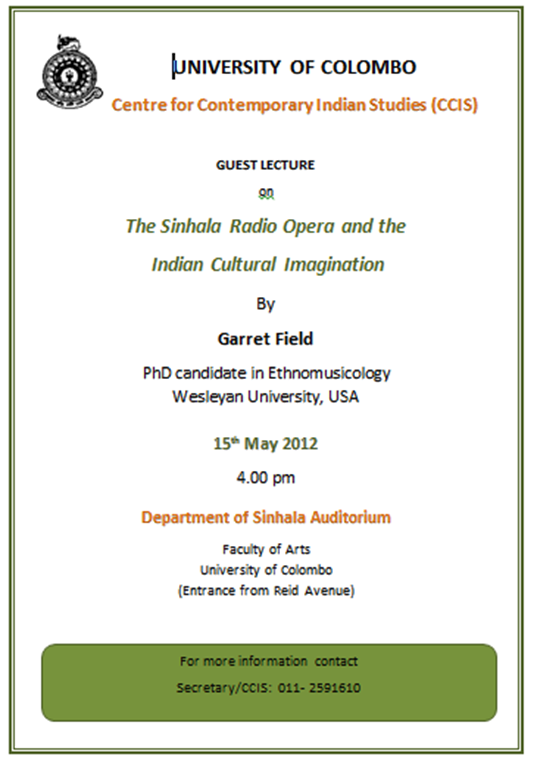 This lecture is concerned with examining Indian literary and music-cultural influences on the gita nataka, or Sinhala radio opera. It focuses on the lives of Chandrarathna Manawasinghe and Wimal Abhayasundara, and their two critically acclaimed librettos, Manawasinghe's Manohari, the first radio opera, broadcast from Radio Ceylon in 1955, and Abhayasundara's Nishadi, broadcast in 1959. The poets' particular engagement in the study of Sanskrit and Indian classical music, the reformist motivation behind the creation of the radio opera, as well as poetic and musicological aspects of these works will be discussed through translated excerpts and audio examples.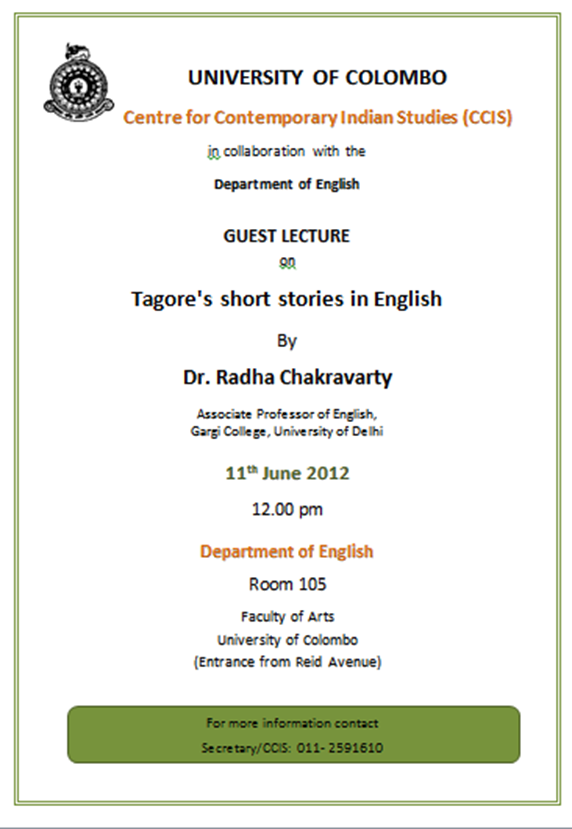 Unveiling of the bust of Rabindranath Tagore
A Bust of Nobel Laureate Rabindranath Tagore was unveiled by Prof. G.L. Peiris, Minister of External Affairs in the presence of Ashok K. Kantha, High Commissioner of India and Prof. Kshanika Hirimburegama, Vice Chancellor, University of Colombo at the Main Library of the University of Colombo on 26th June 2012. This event was organized by the Centre for Contemporary Indian Studies. The Bronze Bust was gifted by the Ministry of Culture, Government of India on the occasion of the 150th Birth Anniversary of Rabindranath Tagore. It was sculpted by Janak Jhankar Narzary, a renowned sculptor and Professor of Art History in Kala Bhavana, Visva-Bharati.
Tagore and Sri Lanka Academic Seminar
A One day seminar on "Tagore and Sri Lanka" organized by the Indian Cultural Centre, Colombo, in association with the Lakshman Kadirgamar Institute for International Relations and Strategic Studies and the Centre for Contemporary Indian Studies, University of Colombo was held on 12 June 2012. The seminar was organized as part of the 150th Birth Anniversary celebrations of Nobel laureate poet Rabindranath Tagore. — at
Lakshman Kardigamar Institute
.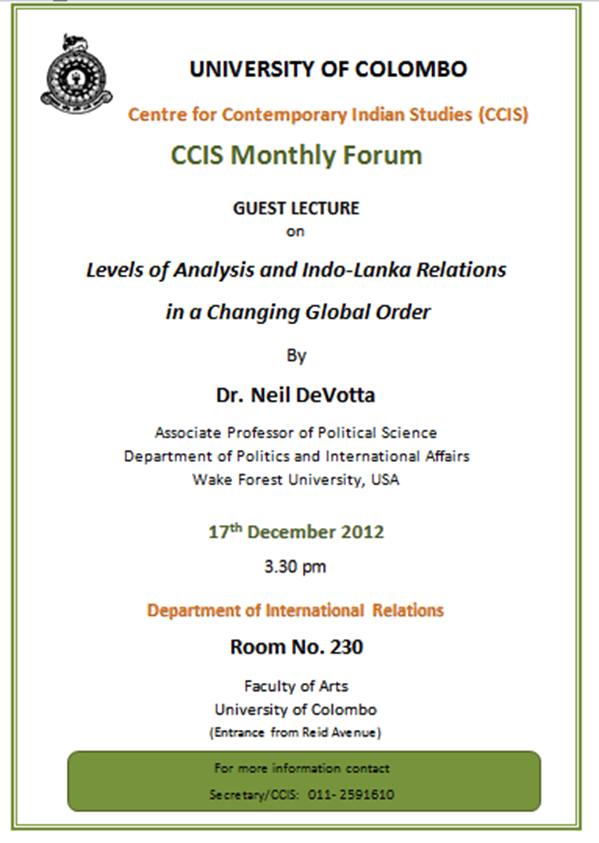 Neil DeVotta is an Associate Professor of Political Science at Wake Forest University, USA. His research interests include South Asian security and politics, ethnicity and nationalism, ethnic conflict resolution, and democratic transition and consolidation.  He is the author of Blowback: Linguistic Nationalism, Institutional Decay, and Ethnic Conflict in Sri Lanka (Stanford: Stanford University Press, 2004) and editor of Understanding Contemporary India, 2nd edition (2010).  His publications have appeared in numerous journals, including Nations and Nationalism, Journal of Democracy, Commonwealth and Comparative Politics, Pacific Affairs, Asian Survey, Civil Wars, Journal of International Affairs, and Contemporary South Asia.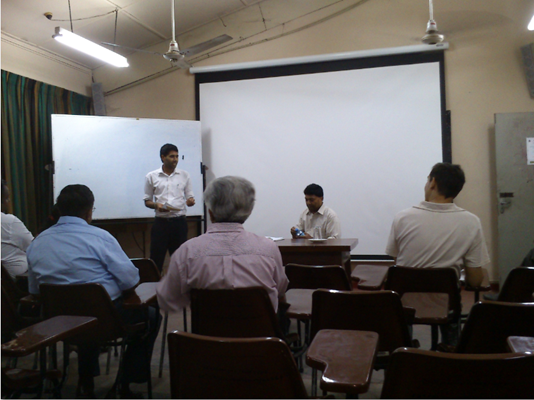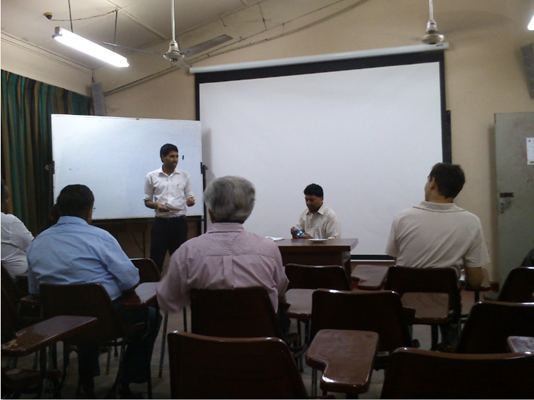 ( http://island.lk/index.php?page_cat=article-details&page=article-details&code_title=73151 )